When Gene Marinaccio began the study of ballet at the late age of 19, he had only two things going for him. One, of course, was his own drive and passion. The other was his teacher, Michael Brigante. In a Dance Magazine interview with Viola Hegyi Swisher that appeared in September of 1969, Gene says, "Brigante was a great master technically and he inspired me artistically. It's not enough to say that he was a fine artist-teacher. He was all artist, all teacher. His enlightenment and sensitivity place him at a level few people attain."
Gene had begun his study of dance a year or so earlier with Hindu Dance teacher, Bupesh Guha and later studied primitive dance with Andre Dru, took classes with Olga Preobrajenska and Julia Sedova while in Europe, and with Antony Tudor, Edward Caton, Margaret Craske and Yurek Lazowski (character dance) in New York. Teachers in L.A. included Bronislava Nijinska and Michael Panaieff.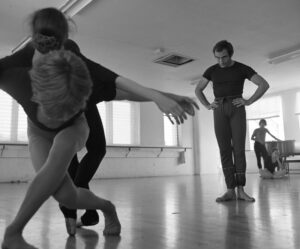 Gene absorbed everything his teachers had to give and formulated his own technique. Michael Brigante had recognized the teacher in Gene before he was aware of it himself. In that same interview, Gene says, "The knowledge I had acquired tasted so good to my ego that I wanted to hold on to it, indulge myself in it. What I should have done was put it to use in a constructive manner. With his great understanding, Brigante realized this … I wasn't aware of it at the time, but he was trying to draw me out and make me put my knowledge to work by being able to correct an incorrect thing in myself. Hopefully, then, I would learn to do as much for others – be able to understand exactly how to correct my future pupils instead of making arbitrary demands on them."
Through his teaching and choreography Gene found a new direction in ballet, embodying teaching from Brigante and famed teachers throughout Europe, combined with modern & ethnic forms and his own deep understanding of the body.
When he settled in Los Angeles with his first company, the American Concert Ballet, Gene began teaching at several iconic studios such as Falcon and Rainbow, before opening his own studio on Vine Street in Hollywood. Classes there were filled with dancers from beginners to advanced/professional, from young to old. There was just one requirement – that you gave it everything you had. That meant everything, not just your physicality. It meant total devotion to your craft and the understanding that what you were doing went way deeper than the physical. In Gene's classes, you danced your soul, but only as your found your own voice within Gene's technique.
"Too little emphasis is placed on technique," Gene says. "Young people are still drawn to the powder-puff style of ballet at the very same time they're rebelling against it. They cling to a certain image of ballet: all fame and fortune and tutus set off by pink tights and toe shoes. But they don't like to take the long hard way to achieve their own attainment of ballet nirvana. They want short cuts. The demanding discipline of a strong ballet technique is not for them… When I teach, I want to give my students command of a basic technique that will allow them to expand in many directions of dance."
That philosophy explains why the studio was full of professional dancers of every kind. When musicals came to town, their casts came to Gene. When ethnic dance performances were on display, the dancers were in class with Gene. No powder puffs here, just dancers working very hard. The icing in the cake, as bodies changed and technique grew, was the dancers' ability to pick up the brilliant choreography Gene gave in class. What in other classes is often trite collections of steps, in Gene's class was enthralling.
Gene's teaching method was put to the test when his original company of professional dancers left for other jobs. Unfazed, Gene took the rather rag tag group of dancers he had available to him and turned them into a viable ballet company. It was arduous; it was demanding (he was demanding!) but it bore fruit. The dancers were able to perform Gene's ballets, and grew in the process. Viola Hegyi Swisher wrote this in Dance Magazine, May 1969: "Choreography of beautifully cadenced quality and the clear liquid flow of movement into movement carried spectators into a world of dance too rarely encountered. Gene Marinaccio's dancers move as if the human spirit and the human body are made for dance. With such tutelage, stimulation, direction and choreography as Marinaccio's – they are."